At K&S "it's not just what we do…it's how we do it". It's more than a process, it's a culture. A philosophy of continuous improvement combined with a performance-based mindset that is applied to every part we make. It ensures the metrics we measure are met: Safety, Quality, Delivery and Cost Competitive parts to the customer.
Predictive Tolerance Modeling (PTM)
Most metal fabricators have predictive modeling capability that will be able to tell you if a part can be physically made. We have that as well. However, we have gone a step further. Our PTM process not only can predict whether or not the part can be made, but also whether it can be made to your specifications. Many times tolerances are placed on prints with no real thought as to how they drive cost. Design changes and deviations after parts are launched are costly to both the supplier and customer. Our PTM system can take your print, analyze the requested tolerances, and determine an expected reject rate (PPM level). We then can determine what tolerances are necessary to hit an acceptable PPM level. This allows us to go seamlessly from product quote to production in a smooth, fast, controlled manner without production design changes or deviations. It also ensures we address cost drivers up front, eliminating waste and arriving at the lowest possible cost solution for our customer at design. By fully understanding our process capability and using our own predictive modeling, we can work with your engineering group to deliver cost effective, low PPM parts that flow through your organization seamlessly.
Engineering Software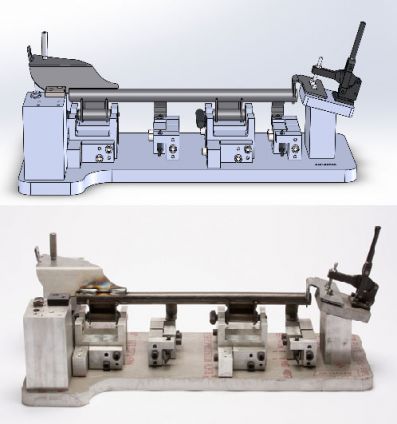 Solidworks 2021
3D Quickpress
Pro Engineer Creo 8.0
Dynaform
Mastercam
Rhino
Expert CAD
Process Efficiency
Advanced Product Quality Planning
Lean Manufacturing
Kanban
Value-Stream Mapping
Rapid Quoting & Prototyping
Model Sharing
Mistake-Proofing Methodology
5S
Six-Sigma
JIT